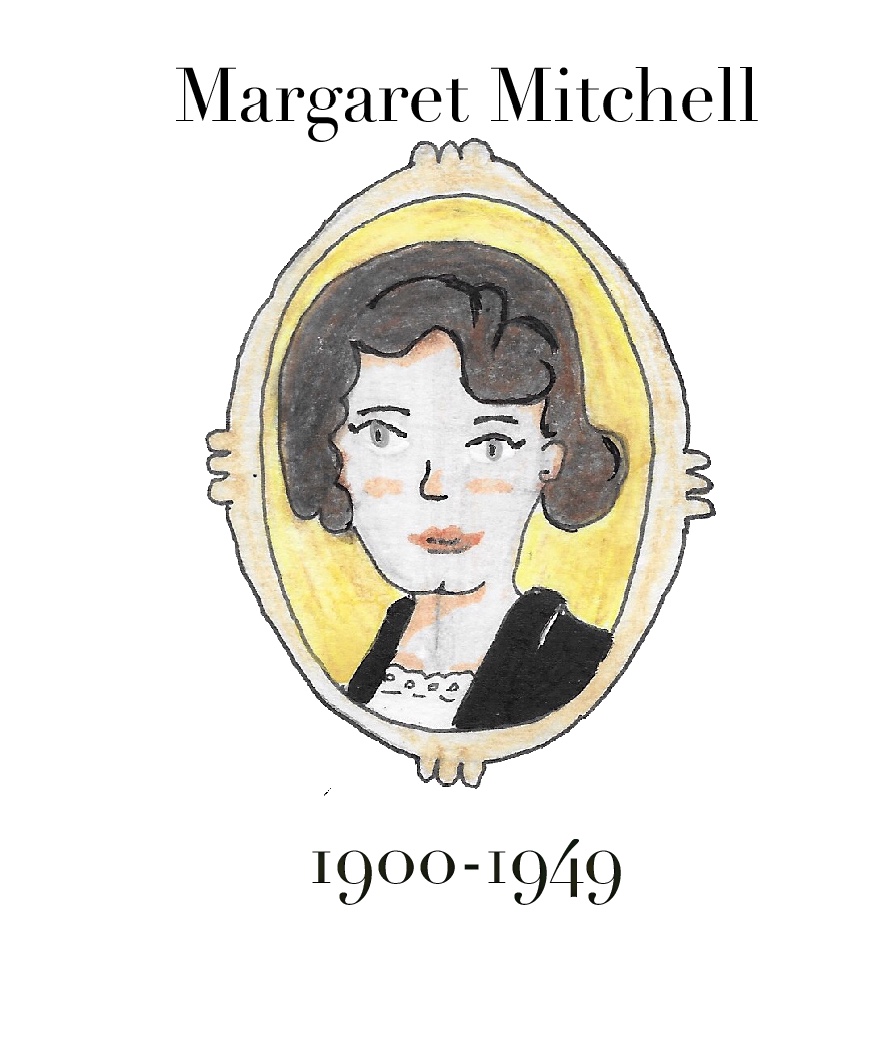 When most people think of author Margaret Mitchell, they think Gone With the Wind. Before Scarlett O'Hara was written into existence, there was Peggy Mitchell, a pavement-pounding reporter chronicling life in the Jazz Age South.
Margaret Mitchell was born in 1900 in Atlanta, Georgia and was a rebel from the start. From a young age she dressed in boys clothing and often went by "Jimmy". Mitchell found herself drawn to storytelling and writing as a young girl but school was a different matter entirely. She often found it boring and wasn't as studious as her strict mother would have liked. At about 11 years old, Mitchell was thrown from her horse and suffered an ankle injury –– the first of three that would bring an end to her journalism career. During the war years (1914-1918) she attended Atlanta's Washington Seminary for girls where she began to use the name Peggy.
Mitchell went to Smith College at her mother's insistence, but her mother's death cut her tenure short. Mitchell caught the first train home, but arrived too late. She finished out the academic year, and returned home to be with her father and brother. A year later, she made her debut into Atlanta society as a debutante. Always one to shake things up, Mitchell also became a flapper, started a group called "The Rebel Debutantes" and performed a rather edgy dances at a debutante ball.
In the same year (1922) the country was mourning the death of Nellie Bly, Mitchell finagled her way into a job at the Atlanta Journal Sunday Magazine. Though she lacked experience as a news writer and had never touched a typewriter, she lied to the editor and got the job.
Mitchell was married to "Red" Upshaw at the time she began working for the Journal Magazine, but she opted to use her maiden name as her byline. Upshaw was many things–– a bootlegger, unemployed and violent. Their marriage did not last long. He left her, returning months later broke and angry, provoking Margaret to file for divorce.
According to Mitchell's editor at the Journal Magazine, Angus Perkerson, she proved to be a valuable report who was ready for any story thrown her way. In a 1945 interview Perkerson said, "…she never looked down on any story. And she wrote like a man… Her stories did not require much editing. They ran as she wrote them." She wrote about Georgian society, the role of women, voting rights, relationships and marriage, personality sketches, and gangs for over four years. Her stories were often the talk of either controversy or high praise. Her profiles on Georgian Civil War generals were hugely popular and provided inspiration for Gone With the Wind (GWTW).
During her time at the Journal Magazine, Mitchell married fellow journalist John Marsh who happened to be the best man at her first wedding. Marsh would become her primary editor for her first and only novel. Mitchell's career as a reporter ended after she re-injured her ankle. Mitchell wrote more than 200 articles as a journalist.
The first manuscript for GWTW was completed in 1929. She drew on the stories of Confederate soldiers she'd heard as a child. Over the next five years, Mitchell worked on her novel periodically but made no effort to publish it, thinking it wasn't polished enough. Finally, in 1935, Harold Latham, a literary editor, convinced Mitchell to let him read the gigantic manuscript. During the next five months, she edited, cut, and revised her work as much as she could. The final edition of Gone With the Wind was published June 1936. It was a smash hit. By October, a million copies were sold. In the same year, Mitchell sold the movie rights to producer David Selznick for 50 million dollars. The popularity of the novel earned Mitchell the Pulitzer Prize, the National Book Award, and the annual American Booksellers Association award.
The film version of GWTW premiered in Atlanta in 1939. Come awards season, it received 10 Academy Awards, including "Best Picture". Even with the success of GWTW, Mitchell chose not to write another novel. Instead, she spent her time answering letters from fans. When America entered WWII, she volunteered as a Red Cross nurse and used the income from her novel to help others. Though she had a complicated relationship with African-Americans, she donated a lot of money to support the education of black doctors. She remained a secret benefactor for the rest of her life.
Mitchell met an untimely end in August 1949. While on the way to a movie, a car hit her, putting her in a coma. She died five days later. In her will there were instructions to have her work burned. Marsh followed her request but grabbed a few pages of GWTW before they burned incase Mitchell's authorship was ever questioned.
Pavement Pounding Journalist
In the 1920s, it was still uncommon for a married woman to work. A husband was expected to be the breadwinner. This was not so in Mitchell's first marriage. The one good thing to come from her union with Upshaw was Mitchell's need to work. Her first assignment for the Atlanta Journal Sunday Magazine was to report on Atlanta socialite, Mrs. Mary Hines Gunsaulus, and the newest fashion she'd seen while in Europe. During the interview, Gunsaulus mentioned she'd witnessed the Fascist revolution in Italy. Originally, the Fascist bit was tacked onto the end of the style report, but Mitchell's editor turned the story on its head, making world political news relevant to Atlanta society.
Angus Perkerson, managing editor of the Journal Magazine, hired Mitchell to cover the style and entertainment beats, thinking her social connections would come in handy. In a collection of her articles, edited by Patrick Allen, her work is divided into sections such as "Mode and Manners", "The Debutante and the 'New Woman'", and "In and Out of Wedlock". While these stories were much lighter and fun to read, Mitchell didn't shy away from hard news. She covered a criminal beat, reporting on Bunko Gangs, rum runners, and thieves. Even these articles focused more on the human aspects rather than the crimes.
Most of her articles, even ones that would typically be classified as "Hard News", have a distinct story-telling feel. Readers do not feel as if they are getting a facts-only, straight news article. Mitchell's are full of personality, humor and color.
Mitchell's work follows patterns found in non-fiction and new journalism, as they are more immersive and focus on truth over fact.
"Fashion is fickle in all things, from the position of waist lines to the size of tips, but nowhere is She more changeable than in slang expressions."

-"The Cat Has No Pajamas", June 1924; pg. 31-34
In her articles on styles in slang, she presents a subjective truth that fashion is never stagnant especially in the words we use.
She has her readers imagine Miss 1923– the most fashion forward and ideal woman of the modern age. Miss 1923 is up-to-date on everything, most importantly, language. ("Spring Styles in Slang Reach Atlanta", April 1923; pg.9-11) Mitchell's presentation of Miss 1923 got me thinking about what Miss 2018 would be like. Would she be an aspiring Instagram model wearing the latest in hipster fashion and have multi-colored hair? She'd almost certainly use words like "bae", "lit", "yaass", "extra" or "low-key". While Miss 1923 and 2018 would appear completely opposite, their attitudes towards the world, style, and language might be surprisingly similar. In many of her writings, she allows her humor to poke through. Her brand of humor is less subtle than Bly's but isn't as outright as more modern writers like Chuck Klosterman or Nora Ephron.
"Men are endowed with ostrich-like attributes which Providence spared women."

-"Just Like a Woman; Ditto for Men", March 1923; pg.85-88
Style was only a small part of her repertoire. Like Bly, Mitchell writes many articles on women. She also covered marriage and relationships, voting rights, and work in a woman's world. In her July 1924 article, "Do Working Women Make the Best Wives?" she explores the quandary of whether a wife should be employed.
While some believed having a job would make women less feminine and too independent, others argued the experience would give wives a better understanding of their husbands and the value of a dollar. She wrote it was smart to work and "As for making a good wives, the girls declare that far from ruining them as homemakers, a job before marriage is the best insurance of a happy married life." (pg. 102)
The structure of a typical article written by Margaret Mitchell begins with a short headline and a snappy lede.
Shot Three Times, Missed Him–– Divorced

Last Straws.

The little things that break the backs of camels and the yoke of matrimony.
Some of her articles feature a short synopsis before the lede and a great many are segmented. The article above has four subheadings, 'Threw Bed Clothes on the Floor', 'The Dentist's Wife', 'Trailed by Detectives' and 'Missed Him Three Times'. I feel this can be a good way of presenting a story as it naturally sets the reader up for a new idea. It could also be a good way to transition if other methods aren't working.
Despite having a short career in journalism, Mitchell went on to write one of the most popular books in American history. She may have been born with story-telling in her blood, but her stint at the Journal Magazine prepared her and allowed her to hone her skills before embarking on the road to Gone With the Wind.
What I've Learned:
Every News Article is a Story- While hard news typically stays with the facts, there is no reason not to make the piece compelling. Mitchell achieved this by using her natural lyrical style and providing plenty of description of her subjects.
"Grandma Veal is a slight, tiny figure, yet erect of carriage. Her small face is wrinkled and faintly yellow, but marked with determination.

Her eyes, undimmed by age, gleam vivaciously over her spectacles and her small hands are constantly in motion as she talks."

"Grandma Veal Speaks Her Mind on Her 102nd Birthday", October 1924; pg. 172-179
The Lede is as Important as the Headline- Mitchell knows how to write a good headline. Both her headlines and ledes are fantastically crafted. A punching headline will get readers to look at the article, but a good lede will get them to continue reading.