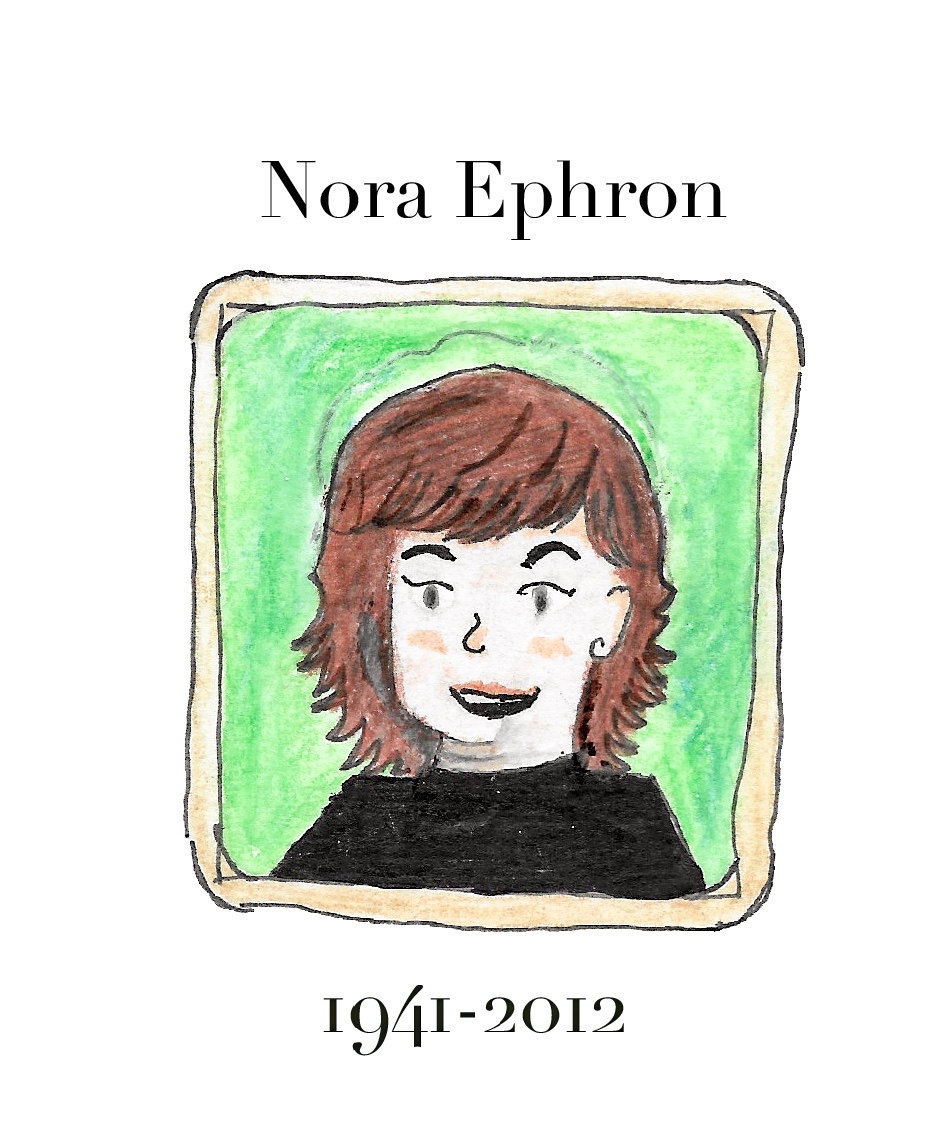 The last intrepid female journalist I had the pleasure of studying was none other than Nora Ephron. She was a journalist, feminist, screenwriter, blogger, producer, and director. Perhaps best known for writing the screenplay for When Harry Met Sally and Sleepless in Seattle, she was a journalist first, bringing humor to the world of news.
When I covered the life and journalism of Nancy Hicks Maynard, I encountered the problem of not having enough material. This was NOT the case with Ephron. Her work has been compiled into at least three collections including The Most of Nora Ephron (edited by Robert Gottlieb) which I used for this installment.
Nora was born in New York City in 1941. When she was about five years old, her parents, who were screenwriters, moved their family to Hollywood. For her, the journalism bug bit early in high school. She attended Wellesley College for women where she would later give a commencement address to the class of 1996. Ephron began her career at Newsweek as a mail girl and worked her way up. She quickly learned the women at Newsweek were not allowed to be writers –– The highest rank they could reach was "researcher", a not-so-fancy term for fact-checker.
"With hindsight, of course, I can see how brilliantly institutionalized the sexism was at Newsweek. For every man, an inferior woman." (The Most of Nora Ephron, pg.8)
She left Newsweek but participated in a lawsuit against the magazine for sexual discrimination. Even before leaving Newsweek, she wrote a parody article for a small publication, which landed her a job at the New York Post where she was a reporter for five years. From there, she began writing for magazines like Esquire and Cosmopolitan.
During the mid-70s, Ephron was married to her second husband (of three), journalist Carl Bernstein. Together they co-wrote a screenplay for the film adaptation of All the President's Men, following the Watergate scandal. That screenplay was not ultimately used, but it helped her get future screenwriting gigs. She knew the identity of Deep Throat (Mark Felt) and told people if they asked, though most people didn't believe her. Ephron and Bernstein's marriage came to an abrupt end when she discovered his affair while she was pregnant with their second child.
Ephron turned her heartbreak into Heartburn, a mostly autobiographical novel (1982), and an accompanying screenplay (1986). Heartburn was followed by When Harry Met Sally (1989), Sleepless in Seattle (1993), You've Got Mail (1998) and Julia and Julia (2009), among others. She was also the writer of three plays, including Love, Loss, and What I Wore (2008).
She died in 2012 from pneumonia resulting from an acute form of leukemia.
The Woman Who Didn't Believe in Objectivity
(See pg 3 For Proof)
The first thing I'll say is Nora Ephron did not shy away from getting personal. She puts herself INTO the story and freely gives her opinions. Typically, journalists are taught NOT to do this –– unless you can make it work, and even if you can, avoid it. Long story short: she could and she did. Ephron has the most colorful and humorous style of any journalist I've read. She uses words and phrases like prosaic, "long dingy hall", relic, bare-bones, "morbid fantasy", squished and coveted, to name a few. More so, I found the WAY she puts words together rather the individual words she uses are where the real magic lies. It just flows.
I thought it apt to begin with her account of how she fell in love with journalism. She tells, in vivid detail, about the start of her career. I think this was a good piece to have at the beginning because it familiarizes readers with the most of what Nora Ephron is all about.
"But for many years I was in love with journalism. I loved the city room. I loved the pack. I loved smoking and drinking scotch and playing dollar poker. I didn't know much about anything, and I was in a profession where you didn't have to. I loved the speed. I loved the deadlines. I loved that you wrapped the fish." ("Journalism: A Love Story", pg.12)
One of the next and most poignant articles I dove into was about the controversial Boston photographs. "They are pictures of death in action, of that split-second when luck runs out, and it is impossible to look at them without feeling their extraordinary impact and remembering, in an almost subconscious way, the morbid fantasy of falling, falling off a building, falling to one's death." ("The Boston Photographs", pg.26) These images, published in hundreds of papers across America, caused uproar and backlash over what was or was not appropriate to publish in newspapers. This piece took me by surprise. It was not the kind of article I expected to find by one of the funniest women I've encountered. It takes a certain skill to be able to write in different styles and moods and it sets dynamic writers apart from the rest of the fold. In this article, Ephron raises several points worthy of discussion –– though uncomfortable to witness, even through pictures, death is a major part of life. Why not print those photos? Even so, editors must weigh the audience's potential reaction against the newsworthiness and find a middle ground.
Another less appealing topic journalists have to cover are conventions. Sometimes, depending on the subject of the convention, it is hard to make it seem compelling to readers. One tidbit Ephron makes use of is the fact that one of the presenters, Thomas Friedman, sent a video of himself giving the speech in lieu of him actually being there. It may not seem as strange now in the era of Ted Talks, but I think I would rather be presented to in person. Other points of interest Ephron comments on are: pieces of conventional wisdom often prove to become false with time, Warren Buffett reigns as the king of panelists, and despite what Friedman said about technology breaking down the world's walls, the earth is NOT flat, and we still have plenty of walls.
I want to take some time to talk about graduations. Originally I wasn't going to read the commencement speech Ephron gave to the Wellesley graduates of '96, but seeing as I graduated a few months ago, I thought I might as well.
I remember three things from my commencement address: the speaker's odd fascination with mediocre cheese curds, a misplaced rant about gun control, and something about Trojan horses. I had envisioned hearing a more empowering or inspirational speech, and maybe she did say something to that degree, but I was to busy thinking about cheese curds to really hear it.
Though Ephron's speech is as old as I am, I found it to have more of what I needed to hear. It was practical and had the right amount touches of humor and wisdom.
"What are you going to do? Everything is my guess. It will be a little messy, but embrace the mess. It will be complicated, but rejoice in the complications. It will not be anything like what you think it will be like, but surprises are good for you. And don't be frightened: you can always change your mind." ("Commencement Address to Wellesley Class of 1996", pg. 79)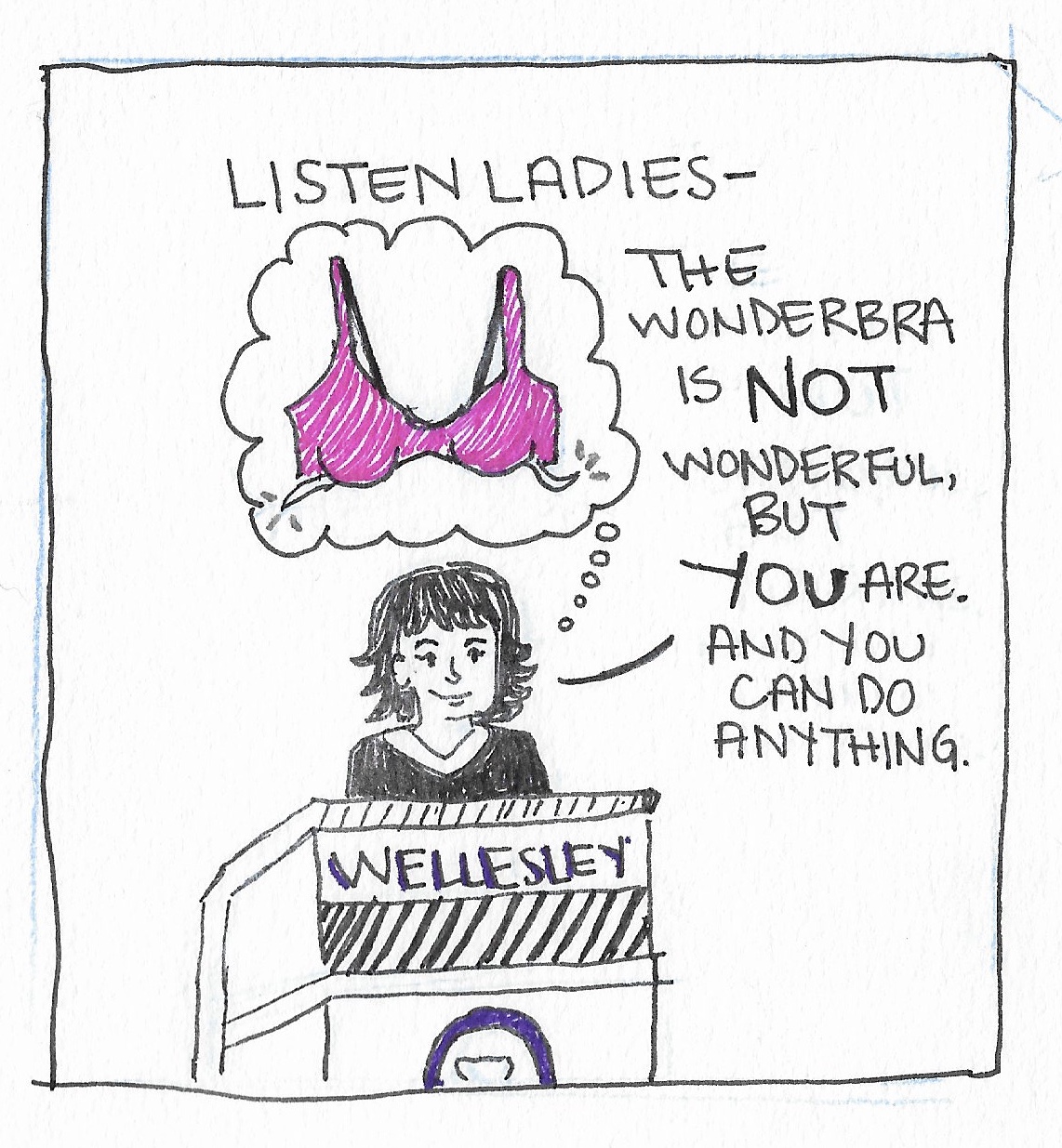 Some of us grow up to be reporters or politicians, and some of us become political journalists who write about JFK's favorite soup (tomato soup with sour cream). Theodore H. White was once the best writer of political campaign coverage until everyone else caught up. By 1975, when Ephron wrote about him for Esquire, he was tired, frustrated and far past his prime. Ephron presents this portrait in pure narrative form, almost turning White into a character. He is perpetually alone, reading or writing, or noticing the weather. He is fading away.
"The change, the invisible landslide of change, eluded him." ("The Making of Theodore H. White", pg. 53)
Here, Ephron paints a pitiful caricature of a once successful man. The narrative style of the article articulates the dangers of resisting change and lingering in the past more so than what a simple features piece might.
Another character Ephron makes her own is Lisbeth Salander, the fictional protagonist of Stieg Larsson's The Girl with the Dragon Tattoo. A year before the American version of the film premiered, Ephron wrote a short parody scene entitled "Lisbeth Salander: The Girl Who Fixed the Umlaut". The danger Lisbeth faces this time: a broken umlaut key! If she can't fix it, she and Mikael Blomkvist may never know where exactly they are in Sweden…
A Quick Word About Food
I cannot write about Nora Ephron without at least mentioning food. She was a self-proclaimed "foodie" and wrote many articles about it. Her novel, Heartburn is about a food writer and includes several recipes The food-related article I read praises a hot pastrami sandwich found in a Los Angeles delicatessen. This particular pastrami sandwiches so good because pastrami is apparently never that good and this one has tender, juicy meat (a must in most sandwiches, in fact). Another selling point is the bread is hot and fresh. In Nora's words, "It's a symphony orchestra, different instruments brought together to play one perfect chord… a work of art." ("A Sandwich", pg. 406)
What I learned
I'll try to stick to three items, but I could probably think of more.
1) Write in whatever style is comfortable: For Ephron, that was personal and witty. If hard news is your thing, go for it. If humor is more up your alley, go up that alley.
2) Even when things are working out well, it's okay to move on: Nora was a good journalist, but she moved to magazines. When she wanted to move on to screenwriting, she did. And she didn't give up journalism –– she continued to write.
3) Using ALL CAPS for emphasis is fine if used sparingly: USING ALL CAPS LIKE THIS FEELS LIKE SHOUTING AND IT'S UNNECESSARY! Only capitalizing ONE word is more effective. Note: Ephron often employed this technique for emphasis. She used it in the correct way.