Nancy Hicks Maynard was one of the first female African-American journalists for the New York Times. She was an owner of the Oakland Tribune, a founder and first president of the Maynard Institute for Journalism Education (MIJE).
Despite these achievements, her work isn't easy to find, unlike that of Bly or Mitchell. I spent what seemed like hours searching for some of her articles. In the end I was able to find two pieces written in the mid-90s and a textbook. I thought for her being one of the first female African-American journalists for a major newspaper, her work would have been better archived. There was little biography to consult. Learning about who Bly and Mitchell were outside of their careers was exciting and informative and I wanted that same opportunity with Nancy. Even with the limited resources at my disposal, I am determined to do Mrs. Maynard justice.
She was born Nancy Alene Hall in Harlem, New York City. Her interest in journalism began when the media misrepresented her community after a fire. After graduating from Long Island University with a degree in journalism, she began working for the New York Post as a copy girl. (A "copy girl" was a way to identify female copy editors.) About a year later, she was snatched up by the New York Times. Once she reached reporter status, she hit the streets covering strikes, race riots, campus takeovers, education, and health care. In the early 70s, she traveled to China to report on its medical system. She later covered NASA's Apollo program.
In the late 70s, she and her husband Robert C. Maynard quit their respective jobs and founded an institute for budding minority journalists. The institute now bears Robert's name as the Robert C. Maynard Institute for Journalism Education. The institute is dedicated to helping journalists of color find jobs in news media. Nancy served as its first president and sat on the board until 2002.
At the time the institute was founded, 4% of journalists in major American newsrooms were of color. Now, the percentage has climbed to about 16.6%, according to the American Society of News Editors.
During the 80s, the Maynards bought the struggling Oakland Tribune. As publishers, they helped the paper recover financially and bring more diversity into the newsroom until Robert's death in '93.
Nancy Maynard died in 2008 due to organ failure.
Speculation on the Future of News Media
Unlike the other women I've been studying, Maynard's style is far more serious. Out of the three so far, she writes the most like a typical journalist. That is to say, she focuses more on facts than people. (At least this is true for the articles I was able to find.) While I enjoy writing that features emotion and personality over facts and figures, it certainly is NOT a detriment to Maynard's style. Without a personal angle, Maynard is able to provide an abundance of information on a rather nebulous subject: the future of journalism.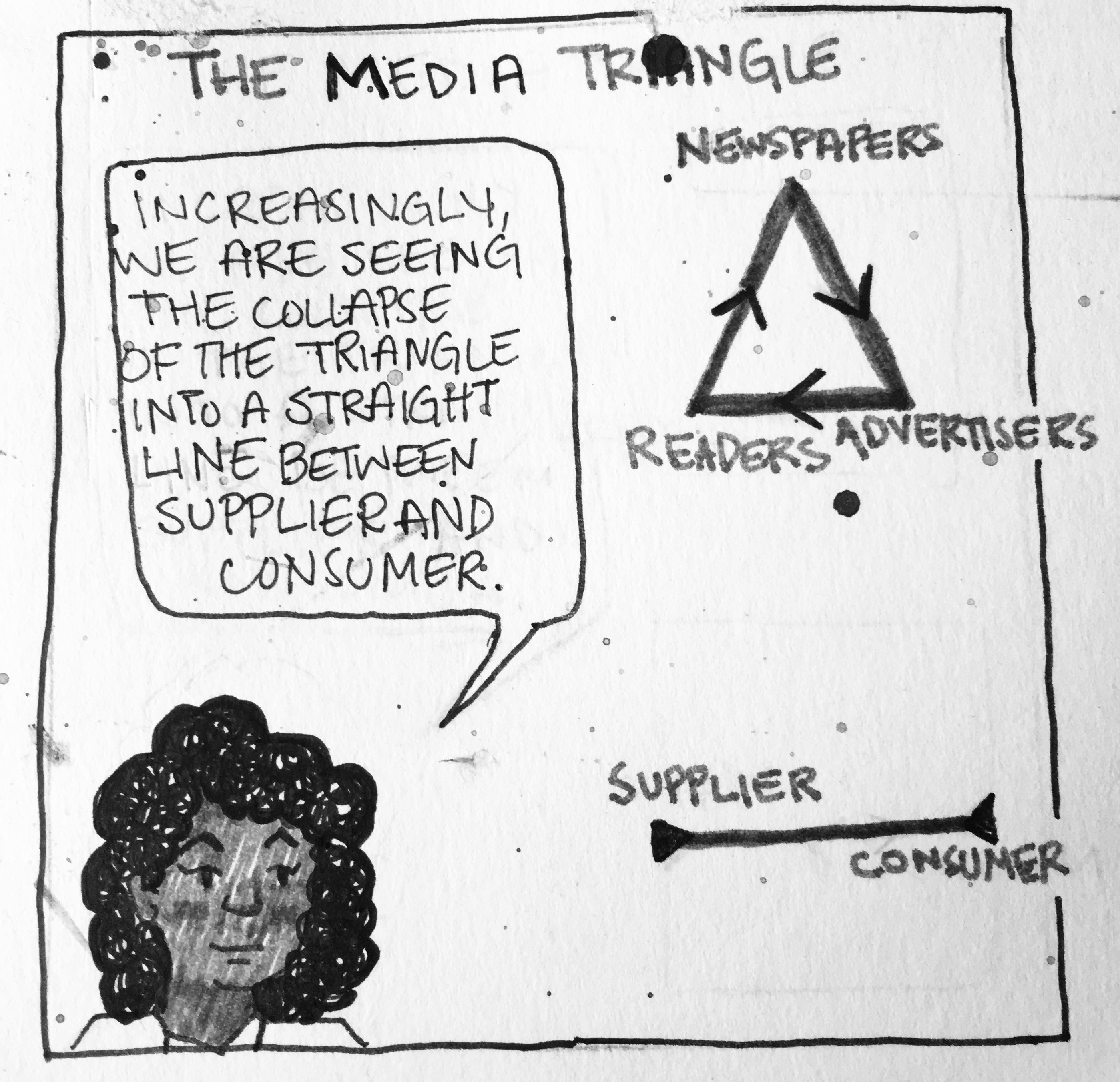 In all the work I had access to, she speculates on the future of news media, a topic journalists are still debating about. In "Managing the Future" she says newspapers serve two masters–– advertisers and readers. For the "media triangle" to avoid a collapse into a straight line, newspapers need to find a way to remain relevant and integral to the process. Maynard writes to do so is more difficult than it sounds.
"General news is omnipresent. It has become a commodity that doesn't command a high commercial value."
She explains that audiences appreciate predictability which general news lacks. To a large extent, each day in news is different. In contrast, sports news follows a pattern. In each game there will be a winner and a loser and fans can expect a rundown of significant plays and have access to game statistics. While Maynard remains neutral on the subject, I think the lack of expectation is what makes "general" news exciting.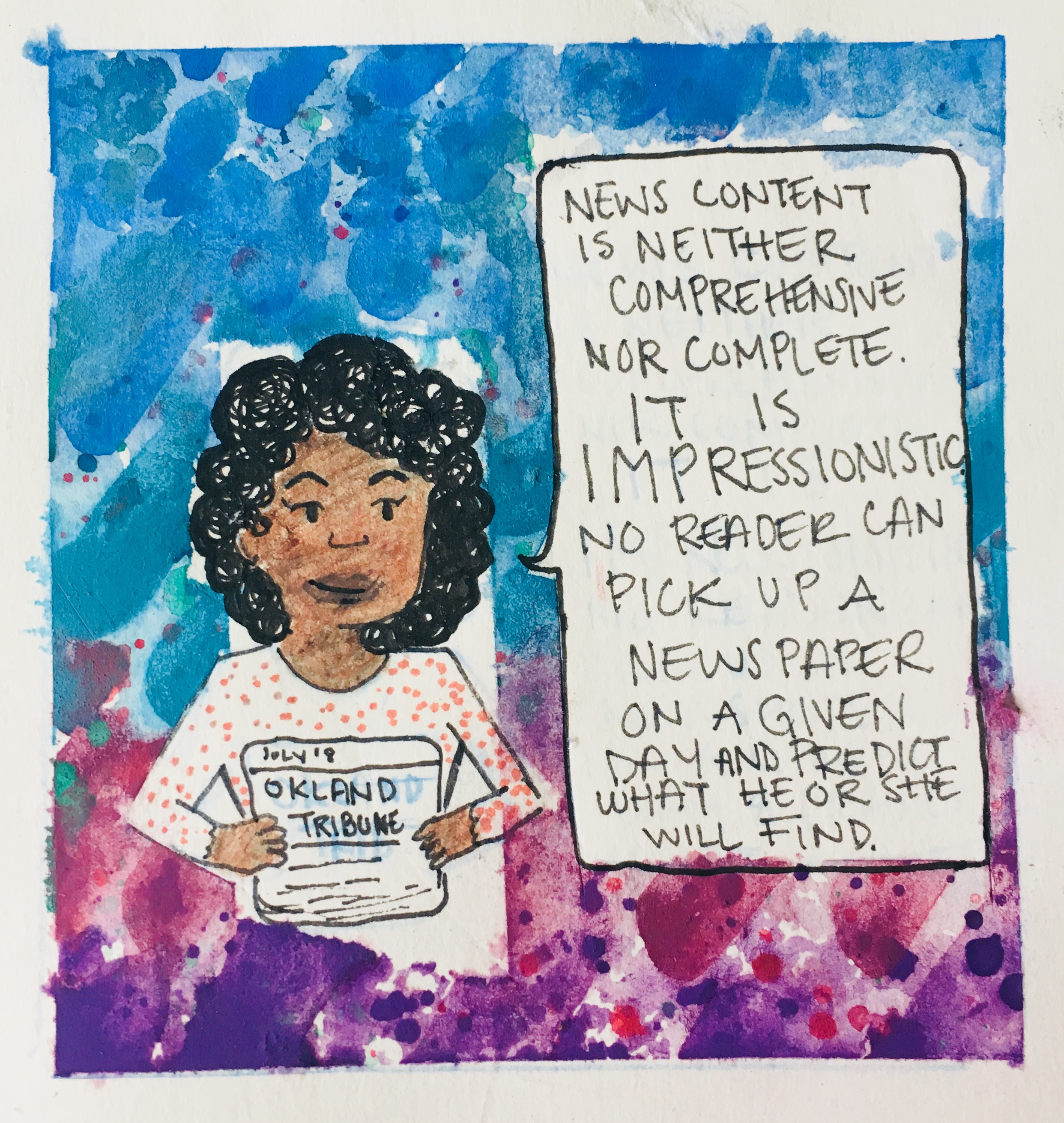 Maynard moves on to conjecture on how people receive news in the future. It wasn't spot on but I did find it interesting to read where people in the mid-90s saw the future heading.
"With fax and color-copying technology, each household could become its own printing site — at a fraction of the cost of traditional newspaper printing and delivery."
Thankfully, the internet became the go-to place for news instead of the fax machine.
Maynard opens her next piece on Media Economics by asking "Where Is Page One in Cyberspace?". In the digital world, where does everything begin? In digital (as well as print) journalism, what comes first––an idea or the money to fund the idea? She wasn't able to answer the question definitively, but in the course of the article she makes the case for money being an important factor in how a pitch becomes a story. Maynard investigated how much money it took to crack big stories such as Watergate or the Pentagon Papers. The Answer: Lots. Once papers spend a fortune on investigation, they need to sell or bring in enough ad revenue to cover the costs. As Maynard writes, "Good journalism can be profitable."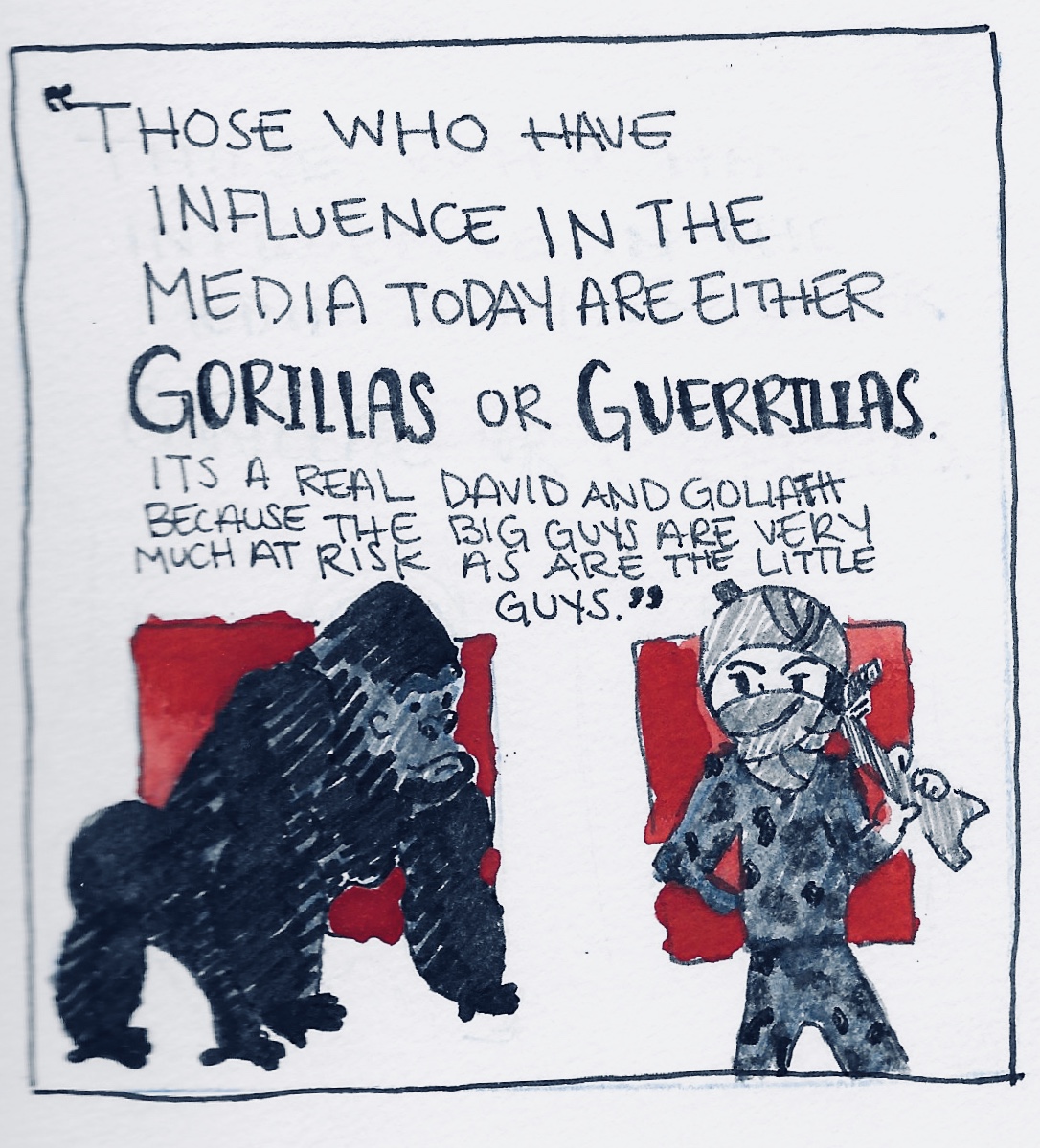 By the time I got around to reading Chapters One and Two of her book Mega Media, I was frustrated. Why couldn't I find any of her early work? Why did I have to resort to reading a textbook? (Reading textbooks would be a lot more fun and manageable if more were done in comic form!) But Nancy herself helped me come to terms with my dilemma.
Chapter One is about news going digital. Back when computers were the size of whole rooms, it was harder to preserve content and it was expensive to track down old news. Before 1995 and the increased usage of the World Wide Web, news was perishable. Now,
"The digitization of the news, then, is like food refrigeration: All presumptions about freshness, perishability, production, and delivery times and methods are in the consumer's favor. Search engines "defrost" information when we want it. The public largely controls what it knows and when it knows it."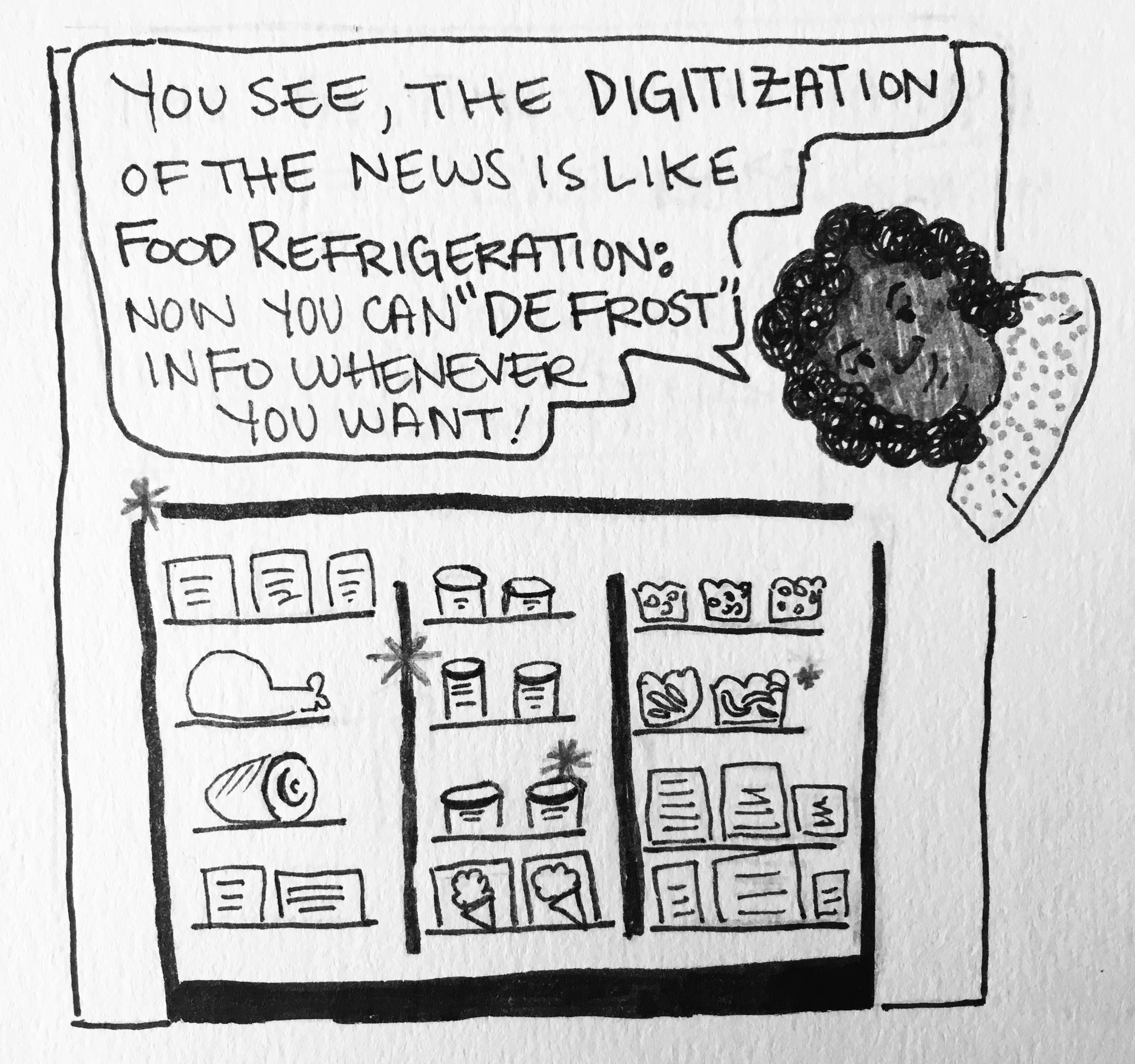 Maybe this is why Maynard's articles aren't able to be "defrosted" for me––perhaps no one really collected her old articles to be digitized. Before, I didn't think about all those journalists before Maynard whose writing has since been lost.
Mega Media focuses heavily on the digital age and how embracing it makes news better. With content and statistics stored digitally, the process of gathering material is much faster. Older ways of content collection, like using the telephone, are still effective and digital methods can act as a helping hand.
Speaking of content gathering, how important is the distribution of the content? In fact, which is more important–– the content or the distribution? In recent months, I've heard many people say content is king. However, Maynard explains in Chapter Two of her book a combination of the two hits the sweet spot. Even good content can't make it on its own. It must go through several channels before it can become effective. On the flip side, it won't matter if the message is distributed through a hundred channels, if the content is not up to snuff.
Let's go back to the question of Nancy Maynard herself. I did happen to find a tapped interview with her on the Maynard Institue's website. Unsure how much this would yield, I saved it for last. I should have started with it. In this two-hour interview, she narrates her journey from childhood to adulthood in elaborate detail. She had storytelling in her veins. In person, she was animated and could recall the past in such elaborate detail. I learned New York Times editors were her professors at Long Island University, she worked on her campus newspaper, and was able to get a job at The New York Post right after graduation. Though she was at the post for a little over a year, she was there at the same time Nora Ephron was! At the Times, she struggled with her editors because of her race and gender, but she stuck it out and moved departments. By moving departments, she was able to experience more than the education beat and flourished in science and health care. In the 70s, her editors wouldn't pay for her to go to China for a story, so she paid her own way, and her story made the front page. She said she was never afraid to go out on assignments alone, a feat she credits to her youth and naivety. Maynard wasn't afraid of risks as she left one uncertainty for another. Her job at the Times could end at any time, and the move to Oakland might not work out. But it did work out, and she was able to help hundreds of minority journalists achieve their goals. Lastly, while running the institute and raising children, Maynard found time to attend Stanford Law School.
What I Learned:
Listening to Nancy talk about her life and her career was like turning on a lightblub.
Be tenacious in everything: Like with the other two women I've encountered through this project, Nancy had to work for what she wanted. Because of her race, she had to work harder for some opportunities. By not letting others tell her what she could or couldn't do, she was able to accomplish a lot.
Be open to sharing knowledge and resources: Nancy quit her job at the Times to use her experience and resources to help others like her to become journalist and to increase the percentage of journalists of color in newsrooms. Extraordinary things can happen when people come together and help each other out.